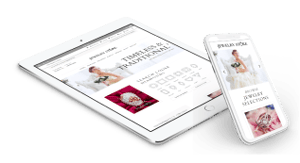 Your customers are moving online.
RapNet and Thinkspace have joined forces to give you an affordable and easy way to set up a customized website featuring RapNet's vast inventory of diamonds.

Special Silver
Theme Price
for
RapNet
Instant Inventory
members
$2,000
One-time set-up fee
(50% off  Silver list price)
Monthly Fees
Starting at $200/mo for SaaS license, hosting, maintenance, backups, training, knowledge base, and basic ticketing support.

Affordable for all jewelry retailers

3 themes personalized to your brand

Seamless integration with thousands of RapNet Instant Inventory diamonds
BOOK A MEETING
with Thinkspace

*Discount package requires RapNet Instant Inventory
A Thinkspace representative will contact you to set up a meeting